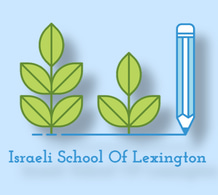 Who we are
The Israeli School of Lexington is a non-profit organization founded in 2002 by a group of parents who aspired to create an educational and social framework for the children of Israeli families in Lexington and surrounding towns.
At the Israeli School in Lexington, you learn Hebrew in an active and joyful experience that incorporates content from Israeli culture. The content is drawn from the world of children and teenagers in Israel, but adapted to children whose lives are centered in the USA.
The Israeli School in Lexington became a home for the Israeli community in Lexington and neighboring cities such as Arlington, Bedford, Belmont, Cambridge, Waltham and more. Since the Israeli community in these cities is not as large as in the cities closer to Boston, the school is not only a learning center but also a significant social focus for the children and their families.
How we teach
Students are taught through experiential learning, which combines technology, music and movement in their study of Hebrew. The lessons at the Israeli school in Lexington are taught in Hebrew by a dedicated and skilled team of educators who come from diverse content areas that include Hebrew literature, dance and education.
The students are exposed to Hebrew as part of Israeli culture and not as a language out of context. Although most of the students at the Israeli School in Lexington grow up in Hebrew-speaking homes, English is the dominant language in their lives. In other words, most of the students of the Israeli school in Lexington are hybrids in their culture, bilingual and bicultural, and therefore the study of Hebrew is adapted to the experiences of this unique reality: the teaching at the school combines several modes of learning and emphases.
The school emphasizes diverse ways of engaging with Hebrew
Students actively study diverse texts in Hebrew such as short stories, poems, recitations, videos, and street ads. The content of the lessons includes the geography of the State of Israel, major historical events, stories from the Bible and Jewish holidays. Students will also engage in content based and project based learning, such as through the creation of an instructional video about settling in Israel.